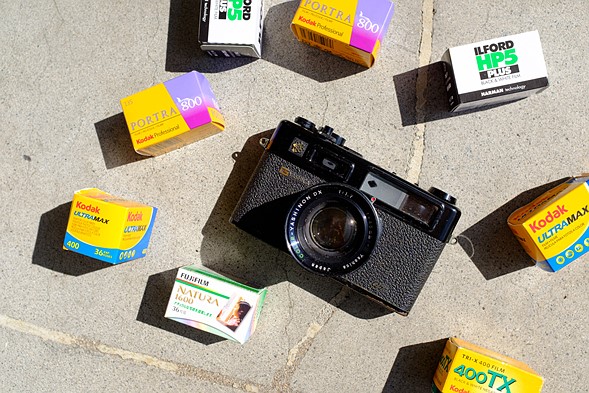 You've bought your first camera. You've bought some film. You're ready to load up and start shooting. What could possibly go wrong? Lots of things! When you make a mistake with your digital camera, you'll know right away, but with film, it's not until days or weeks later, when you're home from your once-in-a-lifetime trip that you discover you've screwed up the picture you can never re-create. This is what makes film so awesome.
The good news is that you are not alone – with film, mistakes are part of the process. I can't stop you from screwing up (and I wouldn't want to, because misery loves company), but I can give you a heads-up on common mistakes to look out for – and, in some cases, how to fix them.
Nearly every film shooter will at some point get developed negatives back from the lab with nothing but edge writing and numbers on them. There are two possibilities: 1) Your light meter is way, way, way, way, way off, or 2) you didn't load the film properly.
For 35mm cameras, a good indicator of the latter is that you loaded a 36-exposure roll last week and you're on your 67th shot. Take-up reels don't always grab the film properly, so make sure you fire-and-wind at least one shot before you close up the camera in order to verify that the film is moving, and once the back is closed, rotate the rewind lever to (gently) tension the film.
If the winder continues to rotate freely, that means the film sprockets didn't engage (and commiserations – you just accidentally rewound an unexposed roll of film). If you loaded the camera correctly, once the slack has been taken up, the rewind knob should turn on its own as you advance the film.
For medium-format cameras, a surprisingly common misstep is loading the film backwards so that the backing paper, not the film, faces the lens. You might say, "Well, the backing paper has writing on it. How stupid must I be to get that wrong?" But in the case of cameras that use detachable film magazines, things can get very confusing indeed, because the paper markings will be facing inwards on the magazine. So a better question to ask is, "How stupid must the camera be?" Take it slow, visualize how the magazine fits into the camera and you should be fine.
Click here to view original web page at www.dpreview.com
Please follow and like us: