Having used a canon 5d mark iii for many years I wanted to produce a Canon 5d mark iv review.
The Canon 5d mark iv was big news when it arrived, with pretty much every feature improved over the previous 5D Mark III. The 30.4MP sensor is good, the noise and dynamic range are good. The DCI 4K video capture is good, although the 1.64x crop of the sensor makes it hard to get wide-angle shots. The build, handling and ergonomics are good. But this is the issue for the Canon 5d mark iv – everything is good in a market where many other cameras are outstanding.
The Canon 5d mark iv has a rich heritage. The clue is in the number – Canon's EOS 1-series cameras (like the EOS-1Dx III) are uncompromising professional cameras with uncompromising prices, while the EOS 5-series cameras are for workaday pro photographers and keen amateurs who need reliability, performance and versatility all in one. And when it appeared in 2016, the Canon 5d mark iv promised all three.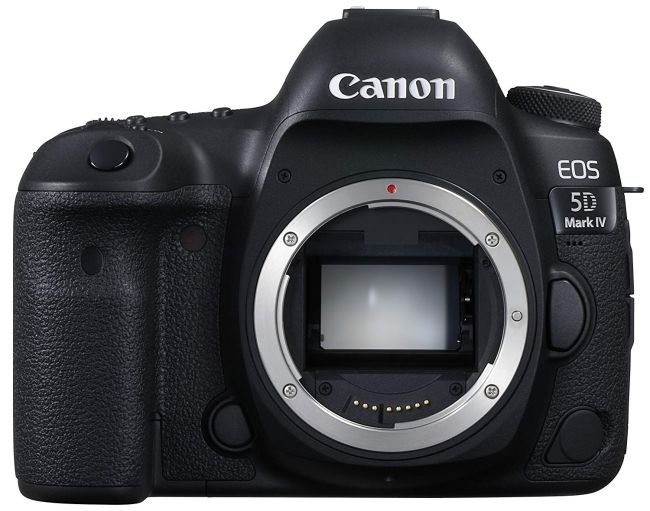 Sensor: 36 x 24mm 30.4MP CMOS
Focal length conversion: 1x (full-frame)
Memory: One CompactFlash; one SD/SDHC/SDXC (UHS-I)
Viewfinder: Optical pentaprism with approx. 100% coverage
Max video resolution: 4K (4,096 x 2,160) at 30fps
ISO range: 100-32,000 (50-102,400 expansion)
Autofocus points: 61 points. Max of 41 cross-type AF points inc 5 dual cross-type at f/2.8 and 21 cross-type AF points at f/8. The number of cross-type AF points will differ depending on the lens
Max burst rate: 7fps
Screen: 3.2in Clear View II touchscreen LCD; approx. 1,620,000 dots
Shutter speeds: 30-1/8,000 sec plus Bulb
Weight: 890g
Dimensions: 51 x 116 x 76mm
Power supply: LP-E6N rechargeable lithium-ion battery
The Canon 5d mark Iiv uses the same seen in both the 1D X Mark II and 80D. Canon says this sensor's on-chip digital-to-analogue conversion delivers improved noise performance and dynamic range. The use of Dual Pixel Raw technology also gives you the capacity to fine-tune the area of maximum sharpness during post-production (only using Canon's own DPP software at present).
The Canon 5d mark iv's native sensitivity runs from ISO 100-32,000, and is expandable to 50-102,400. The camera uses both a Digic 6 and a Digic 6+ processor, with the former used solely for metering, freeing up the Digic 6+ to handle everything else, including the 61-point AF system with 41 cross-type sensors (five of which are dual cross-type for even greater accuracy).
The AF system is sensitive down to -3EV (-4EV in Live View) – that's darker than moonlight, so focusing shouldn't be an issue in poor light, while the fact that you can use lens/teleconverter combinations with a maximum aperture of f/8 and still have the luxury of all 61 AF points (21 cross-type) will be a real draw for sports, landscape and wildlife photographers.
The Canon 5d mark iv has Canon's Dual Pixel AF technology, so there are phase-detection points on the imaging sensor itself, promising quicker AF acquisition than we saw in the Mark III, and performance as fast as many mirrorless cameras.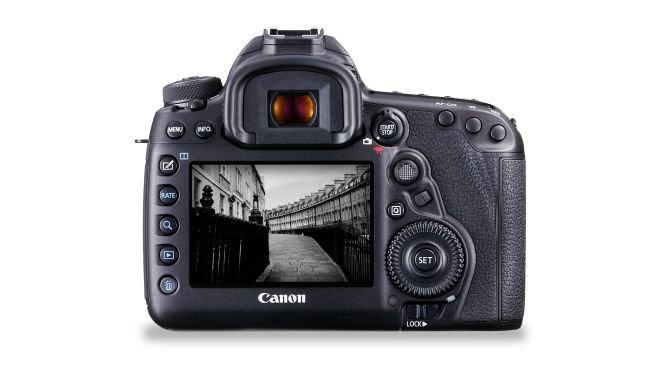 The large 3.2-inch display boasts an impressive 1,620,000 dots and touchscreen functionality. The touchscreen interface is active all the time, enabling menu navigation and image review as well. The screen is fixed, however, without any tilting or vari-angle mechanics.
The Canon 5d mark iv features DCI 4K video capture at 4,096 x 2,160 pixels, at 30/25/24fps (approx 500Mbps). This also means you can extract 8.8MP JPEG images from 4K video if needed, thanks to the Motion JPEG file format available for 4K capture.
This is the only file format available when shooting 4K, however, and there's no option to shoot in a flat gamma profile. Things get better at 1080p, with a host of Full HD options, as well as the ability to shoot 120fps HD video for some impressive slow-motion movies.
The Canon 5d mark iv has external microphone and headphone ports, as well as HDMI Mini out and USB 3.0 terminals. In addition, it sports dual CompactFlash (accepting fast UDMA 7 cards) and SD card slots, and features both Wi-Fi and NFC connectivity for transferring images to a compatible device – and that's not forgetting the built-in GPS unit for location-tagging.
The Canon 5d mark iv does handle well. The hand grip provides a very satisfying hold when you pick the camera up, and despite cramming more tech into the body, the engineers at Canon amazingly managed to cut the weight of the Canon 5d mark iv by 60g compared with the previous Mark III, while at the same time improving the weatherproofing with extra grommets and seals.
The camera features a customizable button just below the joypad on the rear of the body. This can be assigned to perform many functions in conjunction with the front command dial. A useful option would be to set it to control ISO, allowing you to toggle the sensitivity without having to take your eye away from the viewfinder.
The AF is linked to the Canon 5d mark iv's metering system, with the latter helping to detect and track colored objects and perform face recognition.
Coverage is good, and better than in the Canon 5d mark iii, but there's still a noticeable bias towards the centre of the frame. That minor quibble aside, the AF system performs brilliantly. Shooting in Live View, the Dual Pixel AF is a huge improvement over the relatively sluggish system on the 5D Mark III, with focusing pretty much instantaneous, making the Live View AF a much more valuable feature to have than it has been previously.
The Canon 5d mark iv gets Canon's 252-zone RGB+IR metering system with Intelligent Scene Analysis, and it's all the better for it compared to the older iFCL system found in the 5d mark iii.
The system weights the exposure to the active AF point, and does a good job of assessing the scene as a whole to deliver an exposure that's well-balanced throughout the image.
There are no surprises with the white balance system either. There's a choice of either Ambience or White Priority settings, with the latter delivering neutral images even under tungsten lighting, while Ambience Priority has a bias to retain some warmth.
As you'd expect from a full-frame SLR, the canon 5d mark iv features a large and bright viewfinder with 100% coverage. As well as displaying key shooting info along the bottom, it also benefits from what Canon terms Intelligent Viewfinder II technology. This enables you to display an electronic level, along with grid lines and a host of other key shooting info that you might wish to monitor when you have the camera raised to your eye.
The rear display has an impressive resolution that must make it one of the sharpest screens out there. It also makes composing shots in Live View very easy – even when we used a dense 10-stop Lee Big Stopper filter, the display was incredibly clear, with no noticeable signal noise.
There were times while we were testing the 5d mark iv when a vari-angle screen would have been welcome, especially when composing low-angle shots, but the clarity and excellent viewing angle of the display makes this omission less of an issue.
That's not forgetting the touchscreen interface, which is very welcome. With touch control over both the main and Quick Menus, it makes the 5d mark iv's comprehensive menus much quicker to navigate; while the ability to pinch to zoom as well as swipe through images, makes things that much faster.
The burst rate is an excellent 7 frames per second and the Mark IV can now sustain this to shoot 21 raw files before the buffer needs to take a breather. If you're shooting JPEGs, the capacity is unlimited.
Canon claims the LP-E6N battery is good for around 900 shots on a single charge. We used the camera heavily, and while we'd say 900 shots would be optimistic, I would be happy heading out for the day with just one battery.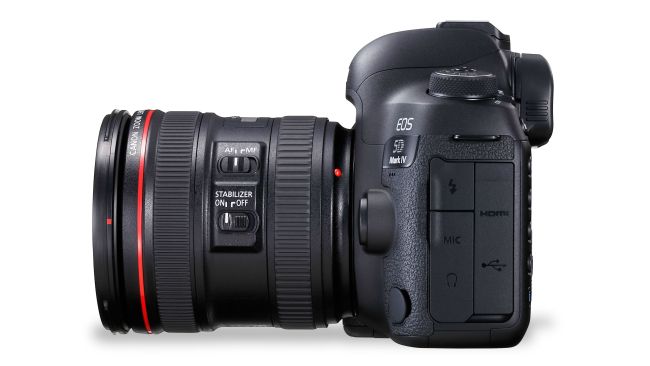 It's really no surprise to find that the results from the new 30.4MP sensor display excellent levels of detail. You should have no problems producing richly detailed prints at Super A3, while A2 prints and beyond are a realistic proposition – that's not forgetting the ability to tightly crop images if needed. ISO performance is also very good.
Results at ISO 800 still appear noise-free in our sample images, while even at ISO 2,000 results are very impressive – there are some signs of luminance noise, but it looks very organic, while there's no evidence of chroma (color) noise.
Raw files can be pushed further in post-processing, allowing you to intentionally under-expose shots and preserve highlight detail secure in the knowledge that you can highlight lost shadow detail later without your shot being ruined by the introduction of image noise.
The Canon EOS 5d mark iv is still a very effective all-purpose full frame DSLR for professionals and keen amateurs. Its 30MP sensor leaves it in a bit of a no-man's-land between its mor recent 24MP and 45MP+ rivals, however, and its heavy 4K video crop factor is a severe annoyance when newer cameras offer full width capture. The Canon 5d mark iv is also left behind a little in continuous shooting performance. We can live with the fixed screen, and the still image quality remains very good even by today's standards, but the dual CF/SD card slots date the Canon badly, and few photographers are likely to want to invest in high-performance CF cards today, even though they are still available.